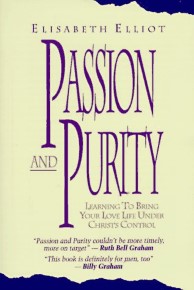 This review is written with a GPL 4.0 license and the rights contained therein shall supersede all TOS by any and all websites in regards to copying and sharing without proper authorization and permissions. Crossposted at WordPress, Blogspot & Librarything by Bookstooge's Exalted Permission
Title: Passion and Purity
Series: ———-
Author: Elisabeth Elliot
Rating: 5 of 5 Stars
Genre: Counsel
Pages: 192
Words: 40K




From Wikipedia
Published in 1984 and written by Elisabeth Elliot, is an evangelical Protestant book, part manifesto and part autobiography, on the subject of romantic relationships. The book recounts Elliot's friendship and romance with missionary Jim Elliot, beginning in the 1940s and ending with his death in 1956. Elliot uses anecdotes from her relationship with Jim to expound on her views concerning "pure, Christian relationships" and the practice of "waiting on God" for romantic timing and direction.
The late Ruth Bell Graham, wife of popular evangelist Billy Graham, wrote the preface.
I read this for the first time back in 2000 when I was single and desperately trying to not be single. That was a very different time in my life from now and I read this now to see how things had changed more than because I thought I needed to read this book.
I will say, besides being saved by Jesus Christ, getting married was the best thing that ever happened to me. Books like this helped me stay the course during those tumultuous hormone years when all I wanted was to give way to my baser desires.
So this time around, it was like looking back down a mountain side. This book is written to single people who are dealing with keeping their purity and walk with God while navigating the world of courting/dating. It was a fantastic reminder that I have not always been where I currently am. That in turn gave me hope because it means that I am not always going to be where I currently am either. God has plans for each stage of our lives.
It has spurred me on to go look at some marriage counsel books by Dr. James Dobson to see what advice is given to married couples. While we're doing just fine, heading off things before they happen is the best way to keep things going just fine.
★★★★★