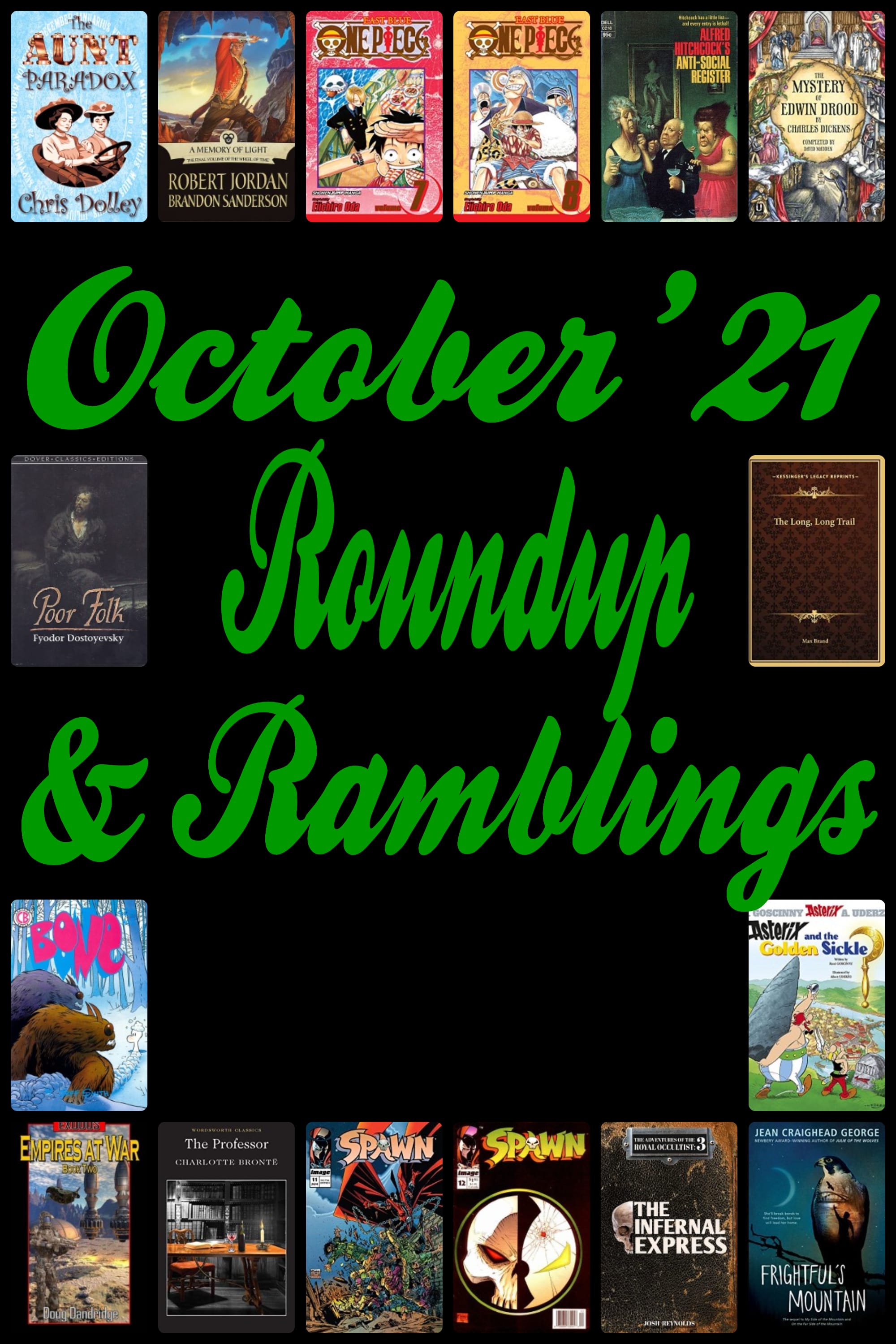 Raw Data:
Books – 16 ↓
Average Rating – 3,13 ↓
Pages – 3556 ↓
Words – 744K ↓
The Bad:
Frightful's Mountain – 1.5stars of screed
Exodus: Empires at War, Part II – 2.5stars of utter mediocrity not worth continuing
The Good:
The Aunt Paradox – 4stars of pure fun
Anti-social Register – 4stars of Hitchcockian crime fiction!
Movie:
Muppets Tonight Season 1 was good but not the same level as the original Muppet Show.
Miscellaneous Posts:
Personal:
What do I say? My reading was down on all levels. I read less books, less pages and didn't read as many good ones as last month. It was a busy month. Looking at our paper wall calendar, every weekend was full and the week evenings had stuff going on way more than I was comfortable with. Helping out with sunday school, singing with the worship team, going to a 45th anniversary wedding, celebrating our last CousinsGiving (Thanksgiving in October among us cousins before we all go our separate way), some serious downsizing (got rid of over 500 books and close to 10 bookcases) plus other stuff. I was so busy that I actually forgot to write the Project X posts for the month. That omission alone is enough for me to realize that I'm overextended at the moment.
Mrs B transitioned over to the night shift for the Holiday season 2 weeks earlier than last year, so she's busy as well.
Our move to Georgia is definitely moving forward unless something comes up unexpectedly. That's part of why we're downsizing. We're cutting back on our responsibilities and are talking with a realtor at church. The reality of the situation is really starting to hit me and I'm staving off panicking about it. I just have to get to January 15th and then I'll be done with work so I can deal with everything else. Mrs B has to keep on working until we leave because of health insurance reasons.
Tired. Overworked. No change to either of those in the foreseeable future.
Plans for Next Month:
Even less reading than in October. I think. We'll see though.
Inquisitor Jenn created a new avatar for me and if you didn't see her post showcasing it, no worries because I'm going to start using it tomorrow.