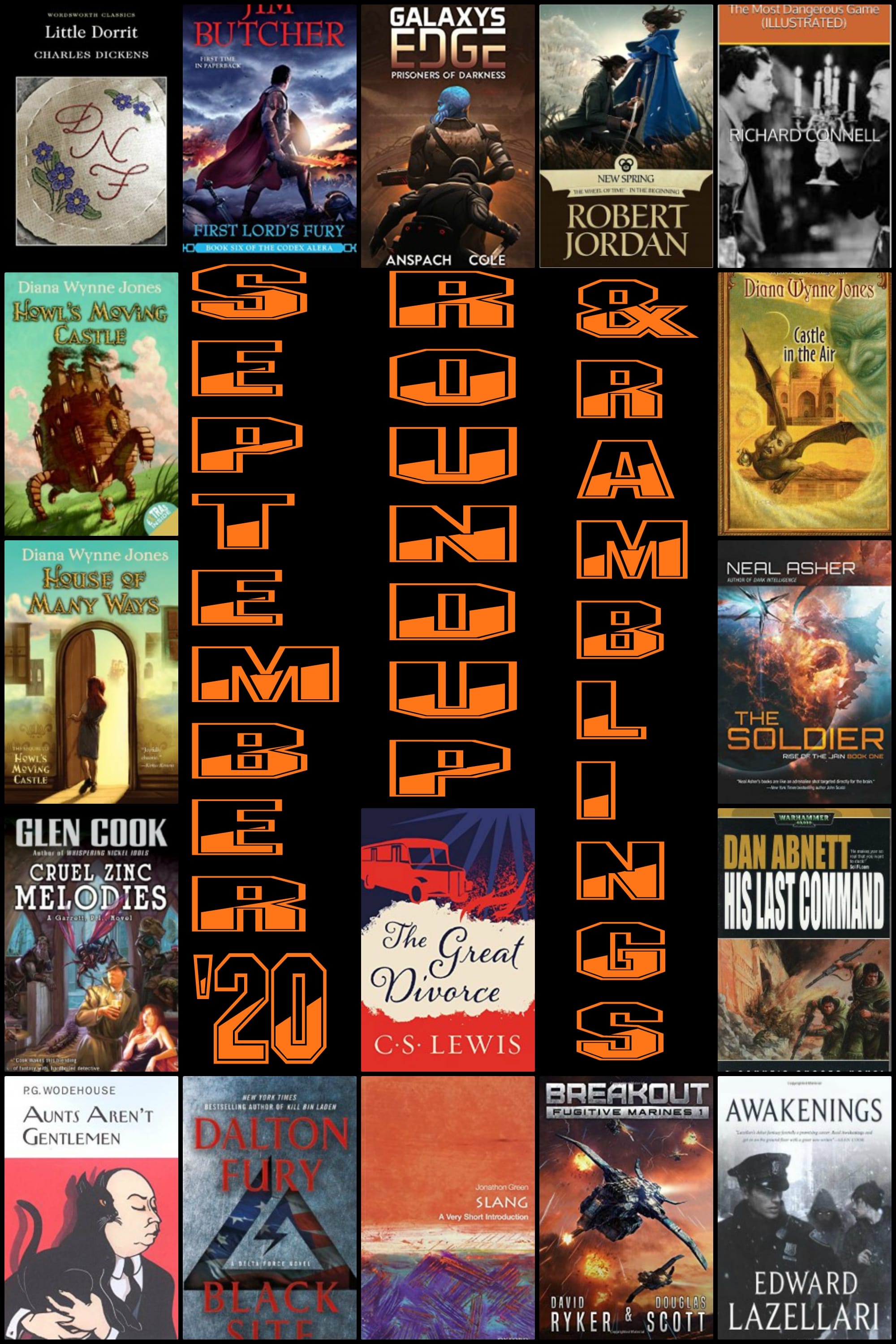 Raw Data:
Books – 17
Pages – 5087
Words – 1708K
Average Rating – 3.82!!!!!!!!!!!!!!!!!!!!!!!!!!!!!!!!!!!!!!!!!!
The Bad:
Awakenings – 1 Star DNF
Breakout – 2.5 Stars of Utter Mediocrity
The Good:
Howl's Moving Castle – 5 Stars of Awesomesauce
Little Dorrit – 5 Stars of Dickens' Awesomesauce
Movie:
Voices of a Distant Star was a great anime, for a teenager and angsty 20something. Not for me anymore
Miscellaneous Posts:
Personal:
Wow! What a great month of reading! I had FIVE 5star reads and FIVE 4star reads. I think this is my highest average monthly rating, ever? I would kill for more months of reading like this.
It was also a high point for all my blog stats. Best views ever since I started in '13. I guess posting every day pays dividends.
Of course, the stress of using the new editor while blogger was also introducing a new editor got to me and just created some constant, low level stress for the whole month. Playing around with various photo storage/hosting options didn't help either. I did decide to go back to using wordpress to host my pix until I get close to that 3bg limit. I have options with Dropbox, so I feel ok.
Also had stress due to seeing a couple of people leave either wordpress or blogger due to editor issues. Throw in some sleep and caffeine issues and spam comments and low level stress was the name of the game for the whole month. It really began to affect me mid-month and honestly, I'm not convinced I'm out of the bushes yet. And that infernal Akismet telling me my comments going into the spam folder is my fault, not theirs, didn't help my blood pressure any either. Thankfully, it was resolved, but still, stress.
So, hobby stress. It's a thing, as odd as it sounds. Other than that though, the month was good.
Plans for Next Month:
Manga Monday's are coming back, so be warned. I'm also warning myself, as the numbers show.
Going to do my usual Movie and a #6degree post, which leaves me with 2 Sundays open. At the moment, I have no idea what I'll fill them with.
I won't be reading as much so I don't think I'll be posting as much. This month was just chockful and I can't keep that kind of posting pace up. Of course, I've said that in years/months past and then wrote so much that I was appalled at myself. So while plans are nice, they're more like "guidelines" 😉
Going to do my best to kick the stress to the curb though and not let it affect me in October. New month, new Bookstooge, new Ideas and whole new levels of silliness. I've already had 2 ideas while typing this post up. That's usually a bad sign 😀